SEAI Grants
One Stop Shop Service
A complete home energy upgrade solution for homeowners
Why Use A One Stop Shop
EnviroBead offer homeowners all the services required for a complete home energy upgrade. EnviroBead will manage the entire process for you, from the initial assessment of your home, through to the final BER.

- Fully managed solution
- Wider range of grants
- Grant values deducted from the cost of works upfront
- Less disruption
A complete range of services
How It Works
EnviroBead will manage your entire home energy upgrade. EnviroBead offer a full range of services including:
Grants available
Grant amounts available for private homeowners
You can access a wider range of grants using a One Stop Shop than if you were to manage the project yourself.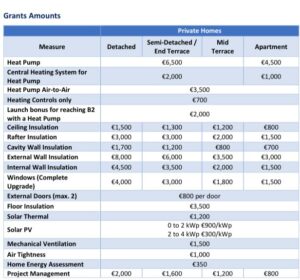 SEAI Grants
Who can use a One Stop Shop
The One Stop Shop service is available to homeowners and non-corporate landlords whose property or home meets these criteria:
Was built and occupied before 2011 for insulation and heating controls.
Was built and occupied before 2011 for renewable systems grants.
Has an existing BER of B3 or lower and must achieve a minimum rating of B2 on work completion, with a 100kWh/m2/year or better improvement on the BER primary energy value.
Has not previously received grants for the same home energy upgrades.
Approved Housing Bodies are also eligible for the scheme but the grant amounts available are different.
Home Energy Assessment
To organise a Home Energy Assessment through EnviroBead please fill in your details below and we will have someone contact you to organise a survey.